The other night I was searching for something "different" to have for dinner, yet something that was somewhat of a comfort food. I went to one of my many trusty food sites for ideas - FoodNetwork.com. After scrolling through a few options, I got lasagna on the brain, but I was still itching for something different. That's when I stumbled across Rachael Ray's Mexican Lasagna recipe.


I already had some tortillas in the freezer that I could use and ground turkey was on sale (which I used in place of the original recipe calling for ground chicken). As far as other changes I made to this recipe - I used salsa instead of taco sauce, left out the black beans, and red onion and added a few of my own touches (garlic, pepper). Ok, so I made a decent amount of changes, but I generally stuck with the concept of it all, which is one I probably wouldn't have thought of on my own. The result? Not your typical lasagna, but still an oh so comforting meal loaded with some spice and plenty of cheesy goodness! I will be making this again!



Mexican Lasagna
(from FoodNetwork.com)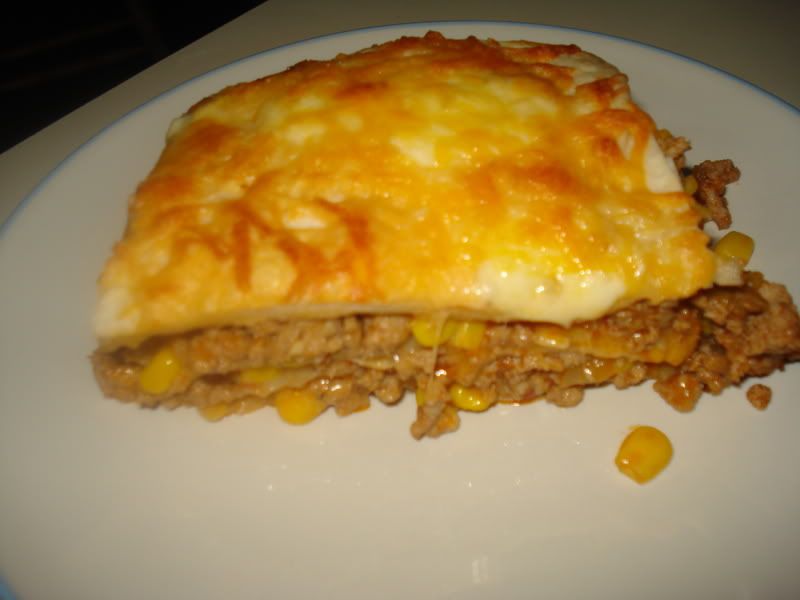 2 tablespoons extra-virgin olive oil
2 pounds ground turkey
2 tablespoons chili powder
2 teaspoons ground cumin
1 teaspooon minced garlic
1/4 teaspoon black pepper
1 (15-ounce) can black beans, drained (I omitted)
1 cup medium salsa
1 cup frozen corn kernels
Salt
8 (8 inch) flour tortillas
2 1/2 cups shredded Cheddar or shredded pepper jack (I used a combination of both)


Preheat the oven to 425 degrees F.

Preheat a large skillet over medium high heat. Add 2 tablespoons extra-virgin olive oil - twice around the pan. Add turkey and season with chili powder, cumin, pepper, and garlic. Brown the meat, 5 minutes. Add salsa. add corn. Heat the mixture through, 2 to 3 minutes then season with salt, to your taste.

Coat a shallow baking dish (I used an 8x8 dish) generously with cooking spray. Cut the tortillas in half or quarters to make them easy to layer with. Build lasagna in layers of meat, then tortillas, then cheese. Repeat: meat, tortilla, cheese again. Bake lasagna 12 to 15 minutes until cheese is brown and bubbly.