Ahhhh....summertime....the smell of fresh summer air, birds chirping, sun shining, and burgers cooking away on the grill, drink of choice in your hand. Yes, that is my idea of a relaxing summer night.
To aid in the creation of said night, I was flexing my creative muscles while coming up with my recipe for Asian Sesame Sliders. I have been thinking of what I can do with a burger recipe that I can submit to
Joelen's
Burger Bonanza
event.
At some point on the bus ride home from work last night it came to me - an Asian twist to a classic hamburger. I also had some buns in the house that were not a standard burger size, so how about sliders instead? And so they came to be....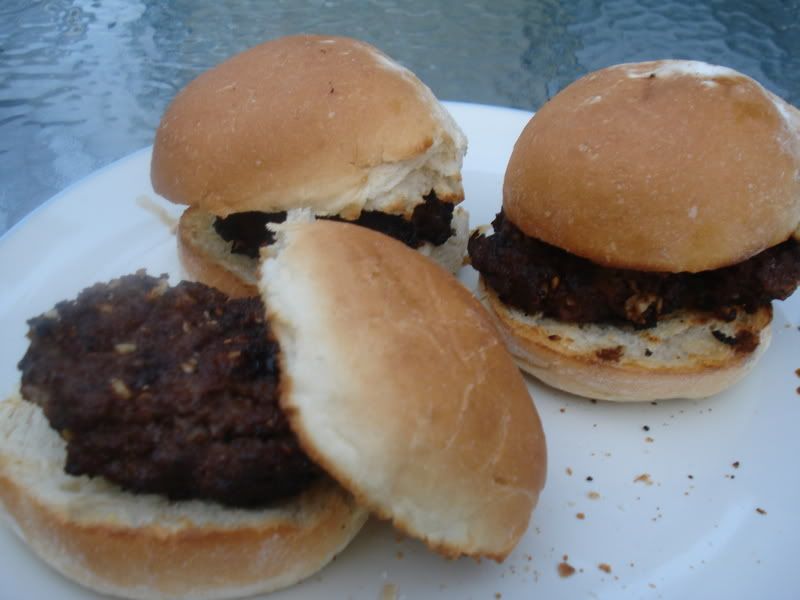 About 3/4 - 1 lb lean ground beef
2 tablespoons mayonnaise
1 1/2 tablespoons peanut butter
1/2 teaspoon Chinese Five-Spice powder
1/4 teaspoon ground ginger
1 heaping teaspoon minced garlic
1 teaspoon toasted sesame seeds
3 tablespoons Lite soy sauce, plus extra for drizzling
Small sandwich buns
Spray grill with nonstick cooking spray. Preheat grill to medium-high heat.
Mix all ingredients in medium sized bowl by hand. Form into small patties, about 2 1/2 inchesi n diameter, place on grill. Cook for 10-15 minutes, being sure to flip them occassionally, until well done (if you want yours non-well done that is fine with me, just don't come crying to me when the e-coli comes to get ya!).
Meanwhile, toast buns on grill. Place cooked burger on bun and drizzle with soy sauce.